Introducing "Hack Job", our new project with Converse Skateboarding! In a lot of ways this is a continuation of our "Little Drifters" project with The Vancouver Sun. This time however, we're building awesome skateboards out of any random materials we can get our hands on! I hacked together the skateboard you see here with a roofing tile, a pair of scissors, and some pine cones.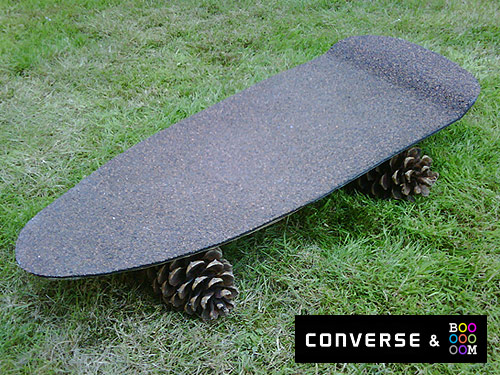 This project is open to anyone in any country: skateboarders, non-skateboarders, art students, cheerleaders, world leaders, gas station attendants, hobbits, anyone excited to create!
Here's what you gotta do:
1. Locate some building materials. Keep in mind your skateboard can be functional or totally non-functional. This means you could use wood, but you could also use pancakes, or human hair!
2. Build a skateboard out of your materials.
3. Snap a photo of your amazing creation. If it is ride-able, shoot a video of yourself riding it! (Jump to the :30 mark of this amazing video to see an electric guitar turned into a skateboard!!!)